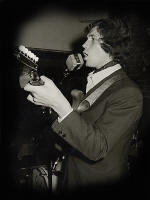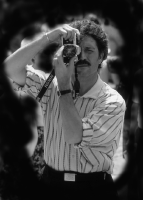 Carlo Saggy, is born to Benetutti (Sassari) December 19 th 1948.
Already in tender age his/her thirst of knowledge the door toward the fascinating and fantastic world of the art.
It begins so his/her artistic formation where it will learn in varied fields from that musical, to that of the sculpture from the photo to the choreography and finally female aesthetics. Just from quest' last artistic passion of his, Carlo draws greater inspirations that will bring him/it to great finishing lines. A run a career that from 1970 to today you/he/she has held up the bump of the fashions and the times thanks to his/her originality. His/her love for the people for the trips and a strong communicative sense they push him/it toward the love for the nature that he gathers in his/her beauty what maximum artistic expression in the awareness that the nature and the art are synonymous so it is not the man that creates the art but the nature that it is art and the man you/he/she can be only a middleman between the creator and the expression that ability equivale of esternazione with the intent to find who shares this last.
Carlo Saggy, artist poliedrico is characterized by its sensibility to gather the various aspects of the world that it surrounds him/it, to do them proper, to mature them and to express them through its realizations with the generosity of whom doesn't want to hold nothing for if, but it desires the others to participate of it. From the recognition of the nature what maximum expression of the art is born the idea of the painting on the body and I sprouts him/it, for the first time, Carlo Saggy was offered to when the magazine "The express train" the realization of a cover commissioned him from the carnival theme. The photographic images that a body of a woman suggestively impresses painting with the purpose to give outlet to that that is its interioritÓ made of thousand facets and adaptable to the historical moment and the environmental situation, they are for Carlo Saggy the tool to perpetuate the woman and the nature really because he is fully aware of the frailty of all of this that
it surrounds us.
Rita d'Alessandro